How Much Does It Cost to Own a
ShelfGenie

's Franchise?
ShelfGenie — Active member of the building & construction industry since 2007
Owning a ShelfGenie franchise can be a business, but it does have some initial financial requirements. To open a single kitchen/cabinet improvements location, the company requires that potential franchisees have liquid assets of at least $75,000.
The franchisee startup costs associated with owning a ShelfGenie building & construction franchise are similar to those of Dollar Store ServicesCornwell ToolsVapor Galleria.
ShelfGenie falls under the 'home based franchises', 'home services & repair franchises' and 'mobile franchises' franchise categories.
---
Investment Level Analysis
See how the investment level of ShelfGenie's compares to those of other available home services related franchises.
---
Get Free Information
Does owning a ShelfGenie franchise sound like the correct business venture for you? Add this franchise to your cart and request free additional information about this business from the company, itself.
ShelfGenie Cart
---
States Seeking Entrepreneurs
These are the locations, inside the United States, where ShelfGenie is looking to expand .
ShelfGenie is currently accepting inquiries from the following states: AK, AL, AR, AZ, CO, CT, DC, DE, FL, GA, IA, ID, IL, IN, KS, KY, LA, MA, MD, ME, MI, MN, MO, MS, MT, NC, ND, NE, NH, NJ, NM, NV, NY, OH, OK, OR, PA, RI, SC, SD, TN, TX, UT, VA, VT, WA, WI, WV, WY.
*Interested parties should have at least
$75,000
in liquid capital to invest.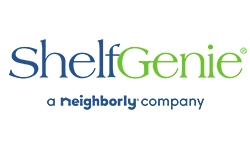 About ShelfGenie
Click here to get in contact with ShelfGenie and request free additional franchise information.
Franchise Details

| | |
| --- | --- |
| Investment Level | $75,000 |
| Franchise Fee | $45,000 |
| Category | Home Services |
| Agreement Term | 5 years |
Company Details

| | |
| --- | --- |
| Incorporated Name | ShelfGenie Franchise Systems, LLC |
| Business Type | Franchise |
| Year Founded | 2007 |
| Franchising Since | 2008 (13 years) |
| Industry | Building & Construction |
| Industry Subcategory | Kitchen/Cabinet Improvements |